Weekend Eats are getting a little interesting for this edition of 'Where To Eat This Weekend' as we highlight a few of Doha's favourite Chinese restaurants.
With the annual Golden Week Holiday millions of Chinese nationals around the world are celebrating Chinese National Day. It is the 66th Anniversary of the Founding of the People's Republic of China which will be celebrated around China with traditional family gatherings and local festivals and firework displays.
Have you tried this multi-regional cuisine yet? From Cantonese to Szechuan cuisine there is great variety to suit all taste buds. More modern interpretations bring a fusion twist by mixing in elements of other cuisines like Malaysian and Singaporean cooking techniques. Go on, try out a new cuisine this weekend in Doha – you never know you may just surprise yourself!
Where To Eat This Weekend Doha: 1st – 3rd October 2015
Whenever this popular American-Chinese chain is mentioned we can never decide our favourite dish – Singapore Noodles, Mongolian Beef or Dynamite Shrimp? And then there is that drool-worthy chocolate cake dessert! Check out Miss QE's restaurant review of PF Changs.
PF Changs Opening Hours: Sat to Weds: 12.00pm until midnight; Thurs and Fri: 12.00pm until 1.00am
For more information call +974 4452 8541.
Tse Yang has some delicious traditional Chinese dishes for its Chinese National Day Set Menu including Dim Sum and the fantastic Angus Beef in Black Pepper Sauce. For dessert there is Green Tea Chiffon Cake (cue heart-eyed emoji!).
Diners on the day will also receive a QR100 voucher to be used towards their next visit.
Priced at QR166 per person; with a Starter, Soup, Main and Dessert.
For more information and booking call +974 5539 5025 or +974 4495 3876 Ext. 2071.

The Winner of Best Restaurant in Doha and Best Chinese Restaurant in Doha at the FACT Dining Awards Doha 2015; and Winner of Restaurant of the Year 2015 and Best Chinese 2015 at Time Out Doha Restaurant Awards 2015. Hakkasan Doha never fails to impress consistently winning awards across the board!
Hakkasan Doha have a Supreme Dim Sum Platter as part of its celebrations, and includes Abalone and Crab Dumplings and beautifully golden Macarons! The Golden Week Menu at Hakkasan Doha will be available until 18th October 2015; priced at QR228.
For more information and booking call +974 4446 0170 or email [email protected]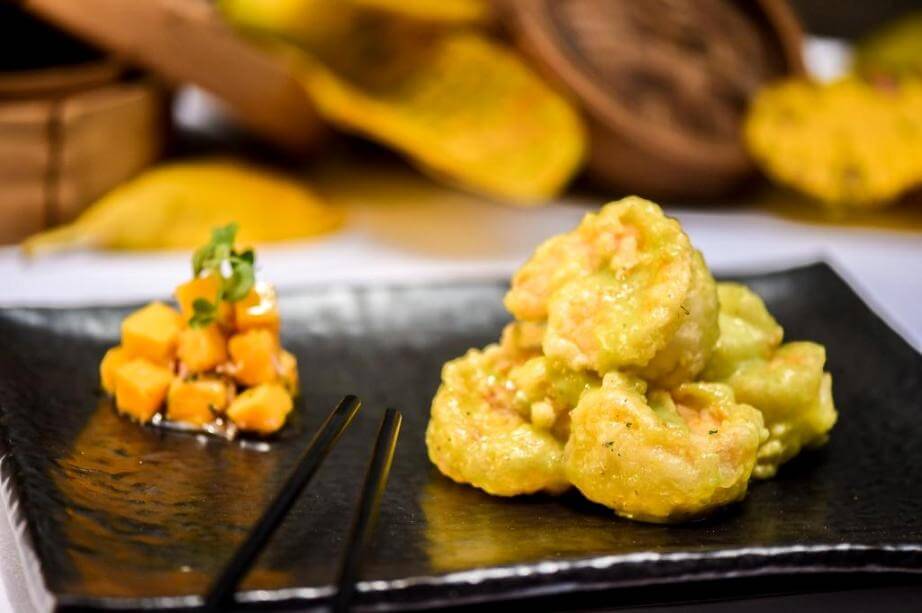 Until 11th October 2015 guests can expect to taste appetizing dishes from Chef Sam Leong as part of the 4th leg of the IHG Culinary Journey. You can try his signature dishes at Crowne Plaza Doha's Aramede Restaurant. .
For booking and information all +974 4408 7788 or email [email protected].
Enjoy a Chinese Dinner Buffet at Chopsticks Restaurant every Thursday from 6.30pm until 11.00pm. Priced at QR169.
For booking and information all +974 4434 3203 / 3333 or email wgrf&[email protected].
Holiday Villa Doha will be hosting a King Prawn Festival with dishes cooked authentic Chinese-style at their oriental restaurant D'Chopstix. Running from 3rd October until the end of the month, enjoy their select dishes.
Lunch 12.00pm – 2.45pm; Dinner 6.30pm – 10.45pm. Priced from QR98.
For more information and bookings call +974 4408 4230.
Enjoy a variety of regional dishes at this popular Chinese restaurant, including dim sum, noodles and beef.
For more information and bookings call +974 4428 1428

Pic Credits: Crowne Plaza The Business Park; Tse Yang; Hakkasan Doha; Wyndham Grand Regency; Holiday Villa Doha; Radisson Blu.